SeaWorld Parks & Legoland Florida Ticket (4 Parks)
SeaWorld Parks & Legoland Florida Ticket (4 Parks)
Total Reviews ( )
14 days' unlimited entry to SeaWorld, Aquatica, Busch Gardens & Legoland Florida!
Unlimited visits for 14 days
FREE Parking
At SeaWorld, Busch Gardens & Aquatica
FREE Transport
To Busch Gardens & Legoland
Enjoy the freedom to visit 4 of Florida's most popular theme parks as much as you like over 14 days!†
The SeaWorld Parks & Legoland Combo ticket gives you unlimited entry at a price that beats buying all the tickets individually – and can only be booked in advance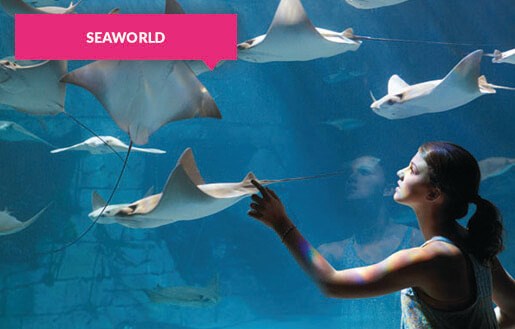 Visit these fab Florida parks as much as you like with your SeaWorld & Legoland Combo:
SeaWorld Orlando
Busch Gardens Tampa Bay
Aquatica
Legoland Florida
You can visit all of these parks as many times as you like within 14 consecutive days – even visit more than one park on the same day!
What's included with this ticket?
As well as the parks listed above, the 4-Park SeaWorld & Legoland Combo Ticket also includes:
Free Parking at SeaWorld, Aquatica & Busch Gardens
Book for 2019 to get FREE parking at SeaWorld, Aquatica & Busch Gardens - usually up to $20 per day!
Free transport to Busch Gardens Tampa Bay
As Tampa Bay is around an hour's drive from Orlando, these tickets also include free return travel on the Busch Gardens Shuttle Express, which you can catch from various hotels and convenient stops around Orlando, International Drive and Kissimmee.
Free transport to Legoland Florida
Your tickets include free return transport from Orlando on the LEGOLAND Florida Shuttle, which departs from I-Drive 360, 8401 Legoland Boulevard, Orlando Florida 32819
Important: You must book your place on the free shuttles at least 24 hours in advance by calling the number provided on your ticket.
Why book a Florida Combo Ticket?
No need to buy separate theme park tickets
If you want to visit the big Florida parks, but don't want the price tag that comes with it, a combo ticket gives you all the parks you need at a lower price than booking them all individually.
Exclusive packages you can't get elsewhere
Combos like this one are exclusive to FloridaTix, so you won't be able to get the same deal for the same tickets anywhere else.
Pre-book and save!
Our Combo tickets are exclusive to UK customers and can't be bought in the USA. This means we can give you unbeatable value compared with the price of 'on the day' gate tickets!
Terms & Conditions
†LEGOLAND Florida is open daily except selected Tuesdays and Wednesdays during autumn and winter months.
LEGO, the LEGO logo and LEGOLAND are trademarks of the LEGO Group. © 2010 The LEGO Group.
Adults from £139
Children from £135
FREE Florida BIG DEAL Card worth £25 - T&Cs Apply
FREE Standard Delivery
FREE Florida Mall Discount Voucher

Buy Now Pay Later! Deposit option from only £10 per ticket
Top Guides to read before your trip