Disney revealed at their annual D23 expo that they will be building a dedicated Star Wars Land at Disney's Hollywood Studios Orlando, Florida. The new authentic 16 acre expansion will allow Star Wars fans to experience a galaxy far far away…
No timeline was given for the additions, but park attendees will be able to ride the Millennium Falcon and eat in a cantina style cafe! You can imagine how excited we were when we heard this, right? No? Well here are 7 gifs that perfectly summarise how we're feeling about the new Star Wars Land!
1. Happy, but professionally reserved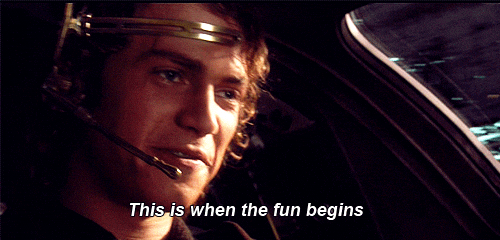 2. But secretly, we're like this on the inside:
3. And this:
4. But then, a shadow of doubt creeps in. What if it's rubbish?
5. Nah, Disney know what they are doing…I believe.
6. O.M.G There's going to be a Star Wars Land! INSANE!
7. Now we're mostly just giddy about it.
Star Wars Land is coming to Disney's Hollywood Studio in Orlando, but if you can't wait for the expansion, take a look at all the other great
Star Wars attractions
that are already there!