Orlando City Tour & Gospel Brunch
Orlando City Tour & Gospel Brunch
Total Reviews ( )
Discover a side of Orlando away from the theme parks, and experience the famous Gospel Brunch at the House of Blues!
Brunch included at the House Of Blues
Discover the true face of Orlando!
Just some of the things you'll get to do on this full-day city tour of Orlando include cruising the Winter Park lakes on a boat, visiting Disney's City of Celebration, and experiencing the famous Gospel Brunch at the House of Blues!
What's included in the Orlando Tour:
Start your morning with a walk in the beautiful Lake Eola Park
Guided tour of downtown Orlando - your local guide might even give you insider tips on the best spots to visit!
1-hour boat cruise in Winter Park: Enjoy the panoramic view of the city as you sail on the clear lake waters. Find out how Winter Park evolved from a winter resort to a fully-developed community from the on-board guide
Get ready to do some shopping! The Orlando Tour just cannot do without a stop at the world-renowned Park Avenue shopping district.
Disney's City of Celebration: After the Gospel Brunch, you'll get to discover Disney's take on the "perfect community" before heading back to your resort.
The House of Blues Gospel Brunch
After a busy morning, you deserve a big, hearty American brunch, and the famous House of Blues definitely won't disappoint!
A choir of soulful gospel singers will entertain you as you feast on an all-you-can-eat southern-style buffet.
The Gospel Brunch is the ultimate highlight of the Orlando Tour - you'll leave the House of Blues with a full stomach and heart!
This tour includes pick-up from the locations shown on the map below: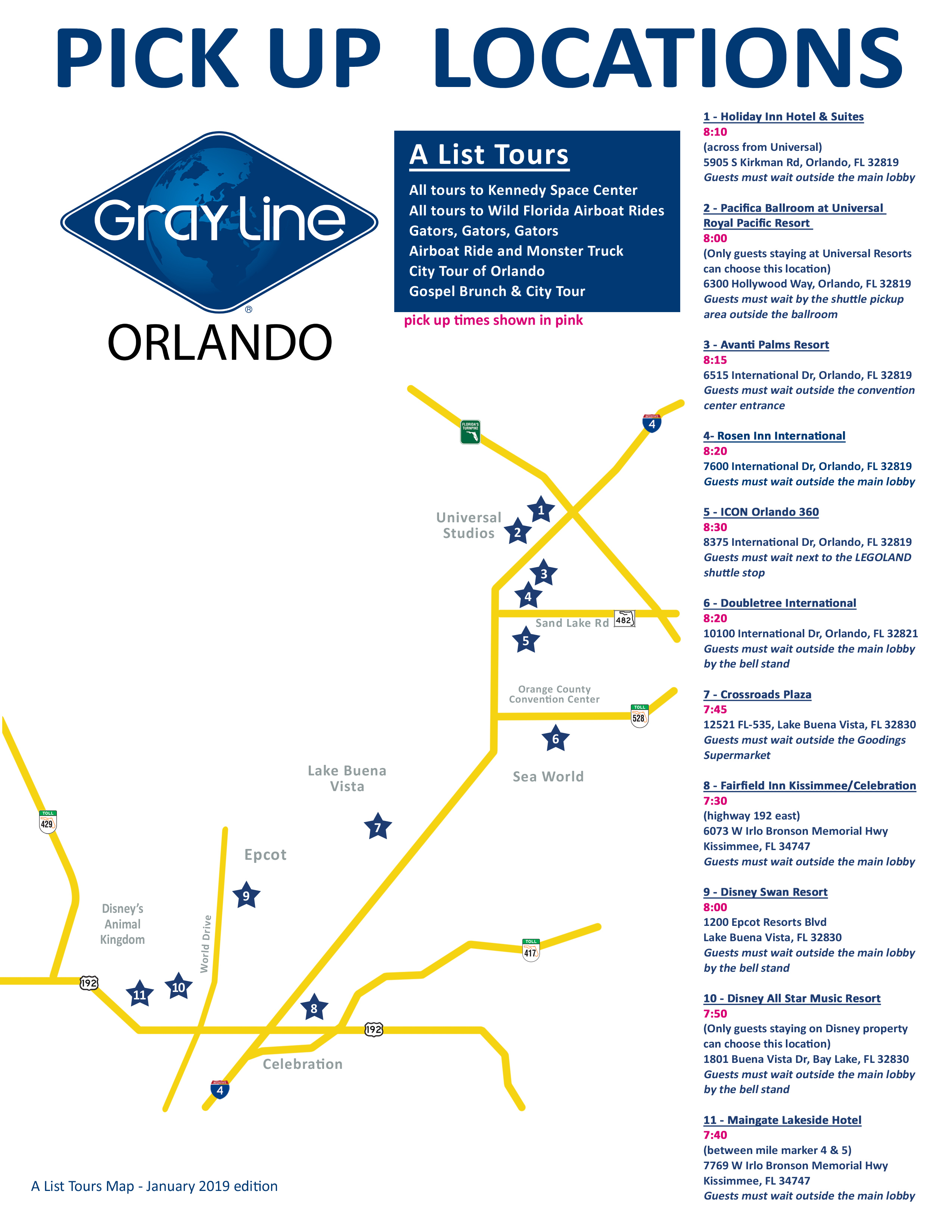 Availability
Transport
Transport is available from various pick-up locations in the Orlando, Kissimmee and Disney Areas
Times
Pick-up is between 7.30am - 8.30am
Departure from the City of Celebration is around 4pm
Duration
Please allow a full day for this trip
Boat cruise: 1 hour
Children
Children under 3 travel FREE but they may need to sit in an adult's lap
If you're bringing a child under 3, you must call the number shown on your ticket & let us know in advance
What to Wear
We recommend casual, cool clothing and comfortable walking shoes
Food & Drink
All-you-can-eat southern-style buffet brunch at the House of Blues
<!--BVSEO|dz:Main_Site-en_GB|sdk:v0.0.0.0-n|msg:JavaScript-only Display -->
<!--BVSEO|dz:Main_Site-en_GB|sdk:v0.0.0.0-n|msg:JavaScript-only Display -->
Adults from £80
Children from £63
FREE Florida BIG DEAL Card worth £25 - T&Cs Apply
FREE Standard Delivery
FREE Florida Mall Discount Voucher

Buy Now Pay Later! Deposit option from only £10 per ticket