Star Wars Rise of the Resistance
Star Wars Rise of the Resistance
Are you sitting comfortably? Because here's everything you need to know about the new Star Wars: Rise of the Resistance attraction.
So, it's finally open, and if you're a Star Wars fan, Christmas has come early. Following the success of Star Wars: Galaxy's Edge, Disney needed a home run with its latest and most ambitious Star Wars-themed Rise of the Resistance attraction. And it has one on its hands.
A seamless blend of high-technology, inventive placemaking and theatrical performance at its best! Stepping off Rise of the Resistance for the first time, it's hard not to think: What did I just witness?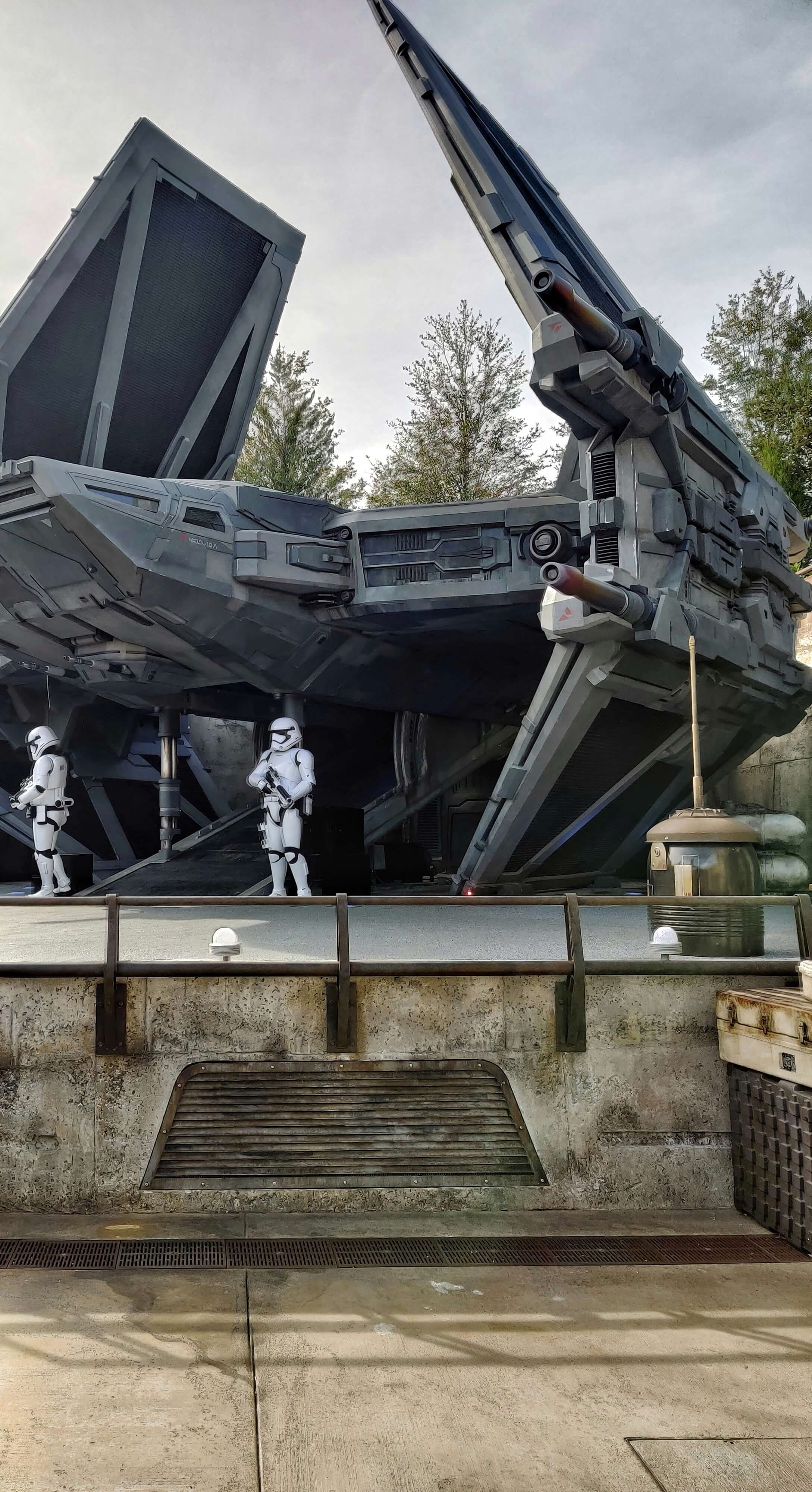 Rise of the Resistance combines high-tech, live theatre and animatronics – Karen Jones
For those with a close eye to detail, the ride is also, for lack of a better term, very complete. There are a ton of things to see and do throughout the 20-minute-ish ride to get even the most meticulous of people excited. Early reviews are already placing Rise of the Resistance up there with the greatest theme park attractions, which is an extremely bold statement with the success and surrealism of Galaxy's Edge.
Want to know the finer details to make your experience that bit more special? Fortunately, this guide talks you through everything you need to know at Star Wars: Rise of the Resistance.
About Star Wars: Rise of the Resistance
You've heard the hype, but I bet you're wondering: What type of ride is Rise of the Resistance?
Well, it's the latest attraction in Star Wars: Galaxy's Edge in Disney's Hollywood Studios. In a nutshell, it's a journey that blends four discrete ride systems, an immersive walkthrough experience and photo opportunities with elements of theatre. Bob Chapek, Chairman of Disney Parks said, "This is our most ambitious attraction ever, and promises to be unlike anything you've witnessed at Disney". And he's not wrong.
The journey begins on the planet of Batuu, a remote terrestrial planet covered in jungles, oceans and petrified remains of ancient trees. Also, home of the galaxy's scum and villainy blue milk peddlers. The multi-platform attraction tells a well-thought-out story of battling to escape the First Order after capture. As you embark on the first of four ride systems, you're transported from the Black Spire Outpost to a sprawling Star Destroyer Hangar, complete with a TIE fighter and a pack of stormtroopers standing to attention – watching over your every move. (The term "full-sized" springs to mind a lot on this ride – it really is insane how realistic it feels).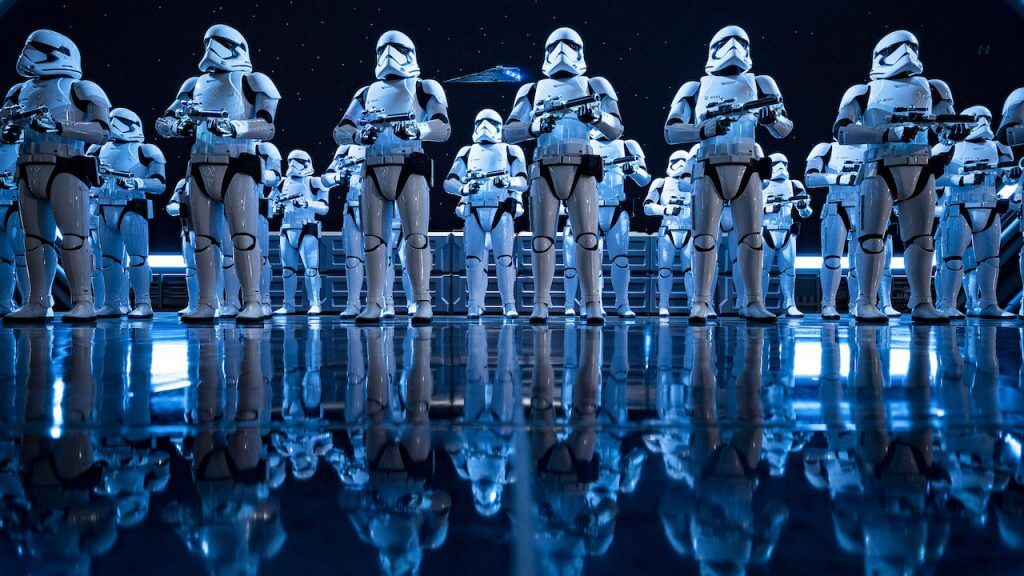 If you're a fan of the current Star Wars trilogy, you'll appreciate seeing characters like Rey, Kylo Ren, Poe Dameron and Domhnall Gleeson, who all play a big part in escaping the First Order. Arguably, the true stars of the show are the ride operators (or should I say, Resistance troops and First Order officers). The Cast Members, who are very much in character as stern, scowling, tough First Order officers transform Rise of the Resistance from a theme park ride to a riveting real-life experience. They don't ask, they command.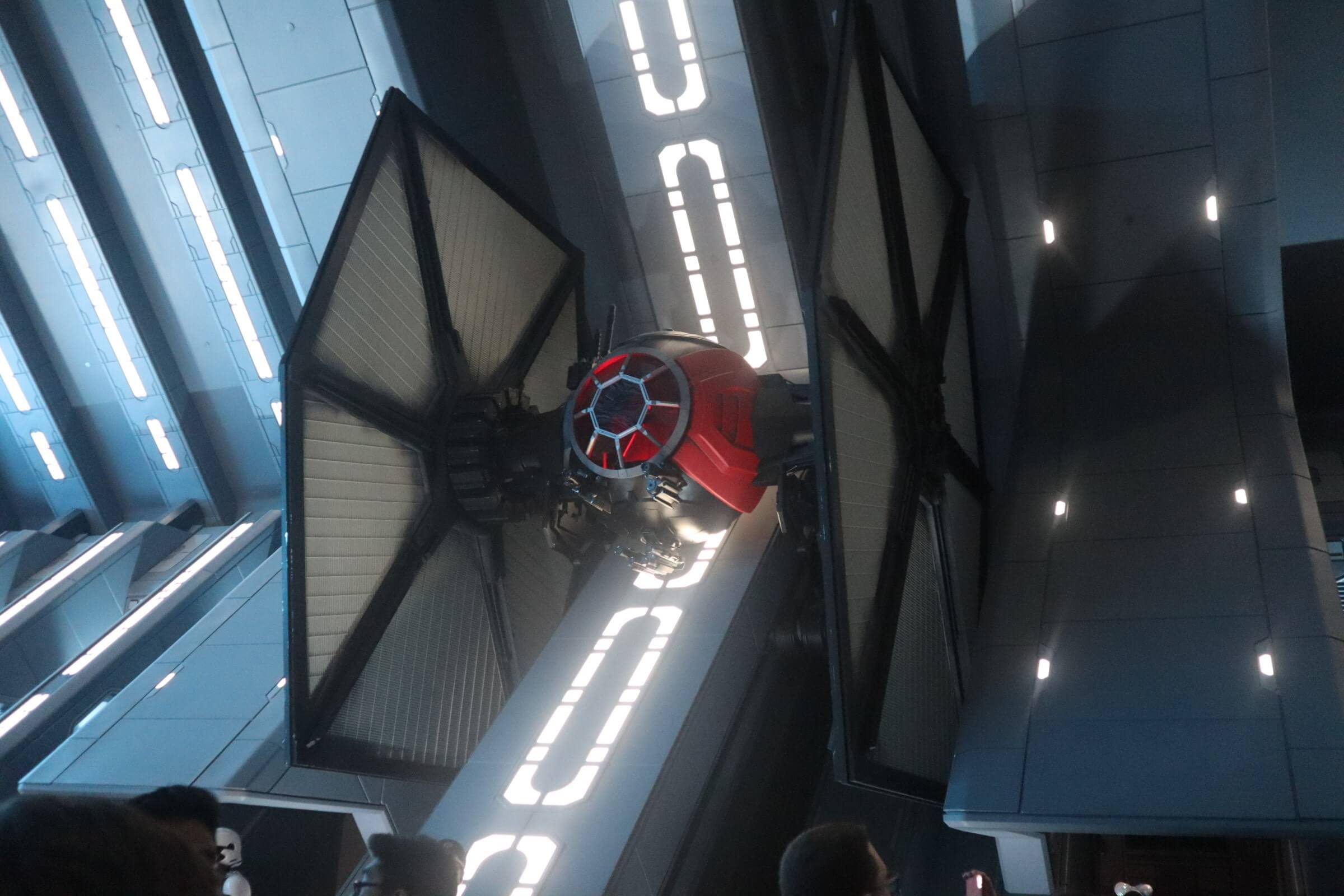 TIE Fighter in hangar – Solo Photographer
Star Wars: Rise of the Resistance completely sucks you in from start to finish, and because of its fast pace and trackless motion, you're never quite sure where you're headed, which adds to its authenticity.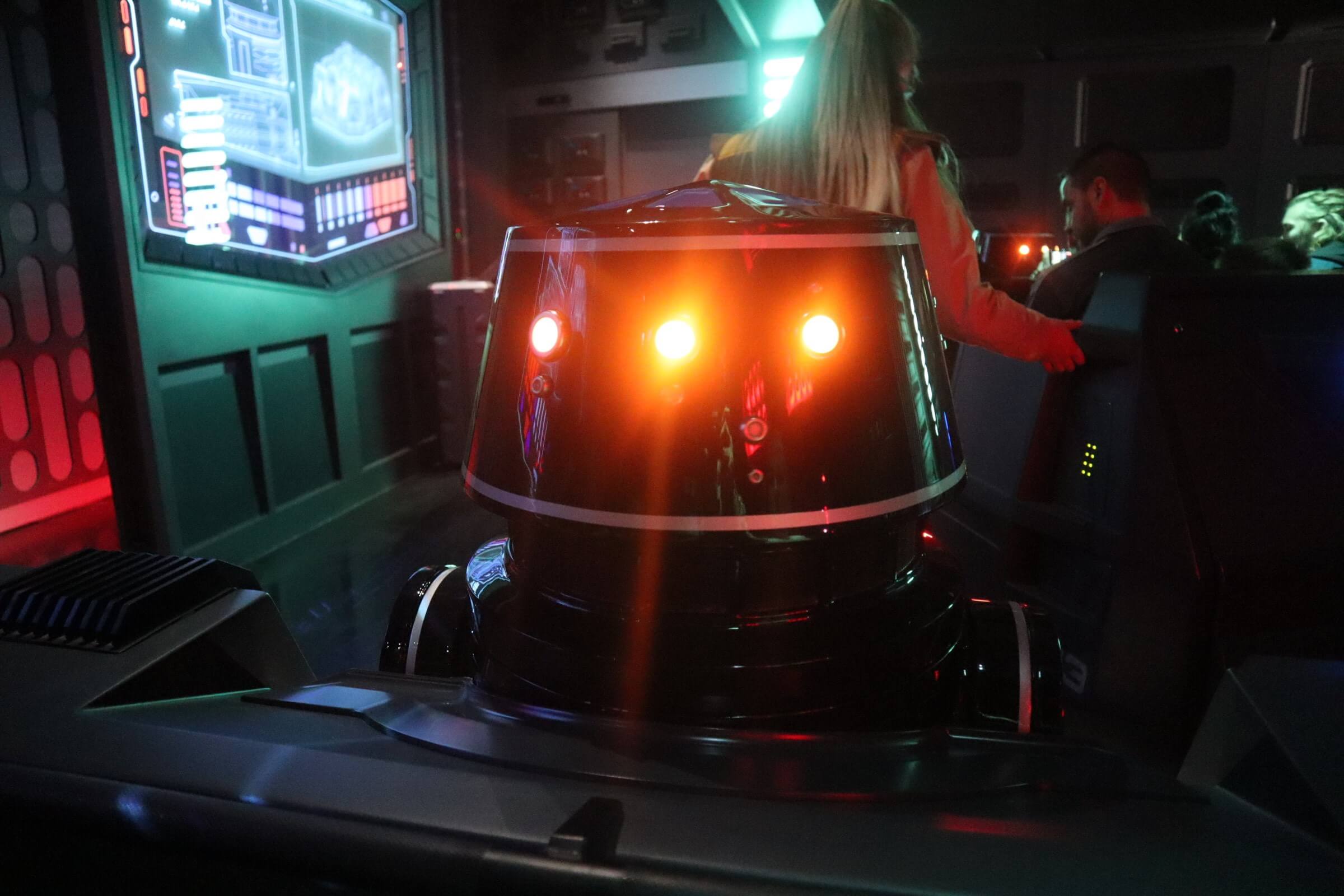 What is the ride system really like?
Rise of the Resistance is the single largest attraction we've ever seen, consisting of 18 areas and 4 ride system types. The main "ride" part is where it's all kicking off. When talking about a thrilling ride at Disney's Hollywood Studios, we think roller coaster immediately. But Rise of the Resistance is everything but a roller coaster.
Granted, it is a ride. By that, I mean that guests do, for some part, get onboard a motorised vehicle. Like most new attractions, it uses an autonomous trackless vehicle, allowing it to sweep a space like a drone, moving in any which way to interact with its environment and other vehicles. Disney also use trackless tech to create a character: A scared Droid who is at times slightly weird and in charge of piloting your vehicle. After a flurry of skittish movements which all feel improvised and uncertain, you (and itself) make it to safety.
Often, rides that feature new technologies instantly face the firing line from critics, or quickly become outdated. But not this one, Rise of the Resistance uses trackless tech in a really clever way.
Best of all, the re-rideability factor. The trackless technology takes you on a different route every time, with lots of unexpected twists, turns, backtracking and movements in almost every direction.
"Traditionally in an attraction, we settle on one ride system and that might become the main drive," says Cory Rouse, Creative Director for Walt Disney Imagineering. "Rise of the Resistance has four different ride systems, and we had to tie them all together to serve the story." And he's right, each system feels like it's there for a reason. This new technology plays a big part.
A total of eight passengers will sit in two rows of four. The ride vehicle looks almost identical to the model at the D23 Expo – only a slighter darker shade of grey. Take note that there at four ride systems for Rise of the Resistance, but this is the primary ride vehicle that takes you through the Hangar.
"There are 38 ride cars in total, and 36 cars can appear in the "show space" at one time", says Disney Imagineers. It sounds like a lot, but apart from one or two scenes during the ride, loading/unloading is the only time you see other riders. Expect some unusual antics and a questionable choice of manoeuvres from the transporting R5 Droid. Have your wits about you, there are plenty of surprises along the way.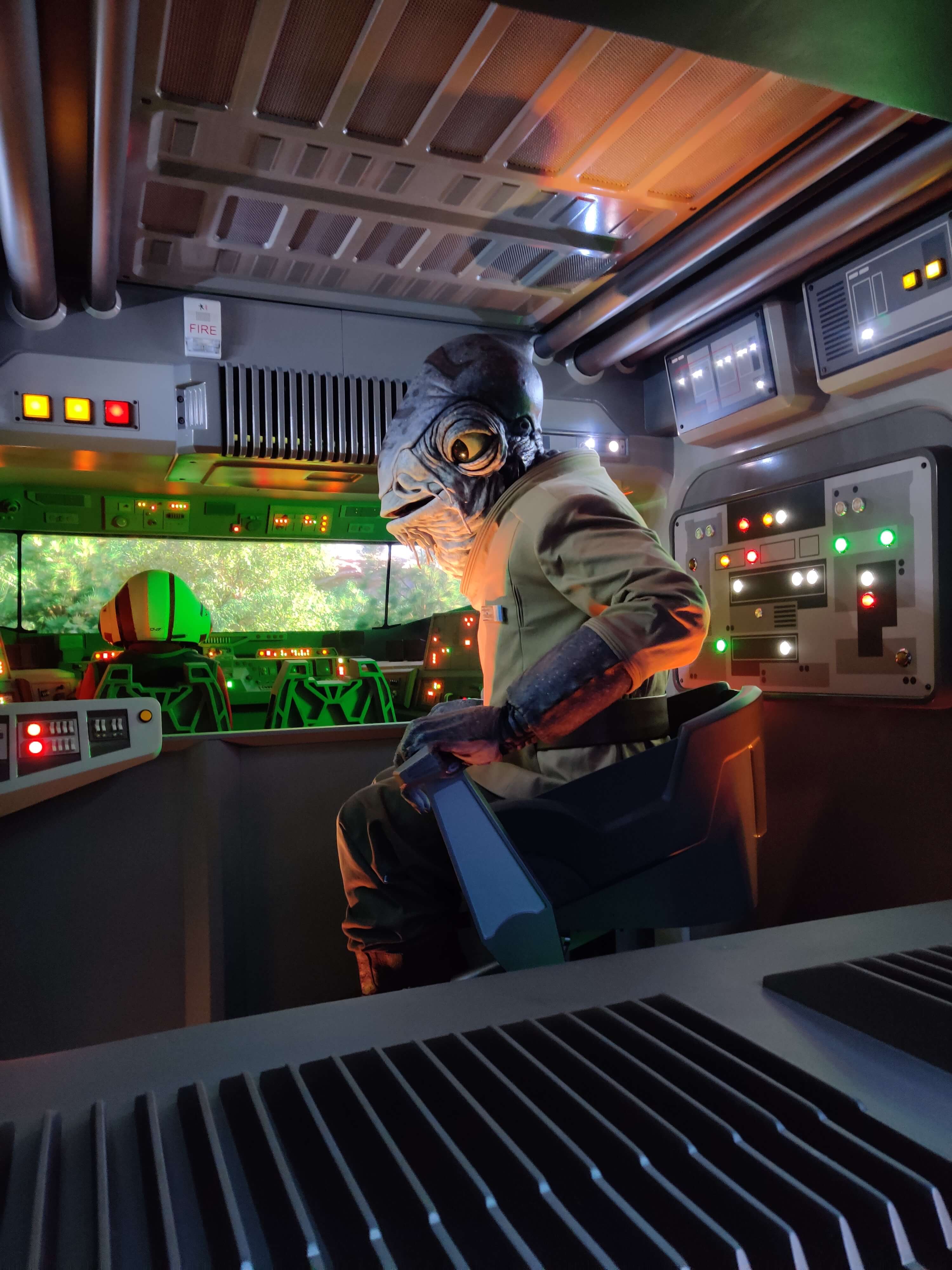 Disney's animatronics up close – Karen Jones
Such as the animatronic figures
All 65 of them – including Droids and Stormtroopers. Rise of the Resistance is among the first to feature a new model of Auto-Animatronics, which Disney say works for more lifelike movements a deft expression of emotion. I can guarantee, like myself, there will be times in this ride where you will mistake a robotic figure for a live actor – albeit for a second.
To use Disney's favourite word, there are also subtle "magic" tricks that, to this day, leave me open-mouthed. Such as when Stormtroopers fire their blasters at you, and moments later a foot-long blaster bolt shoots through the air; followed by its iconic sound effect. And then there's the part when you enter a transporter vehicle from a walkthrough, and somehow, moments later it opens onto the deck of a Star Destroyer. Simply put: Mind blown.
Looking to catch a great photo?
The floodgates opened and waves of imagery hit social media on the opening day of Rise of the Resistance. There are loads, and I mean hundreds of images circulating the web revealing the ins and outs of the attraction. The Star Destroyer Deck is the place to capture the perfect picture, as you're about to find out.
You exit the transport vehicle to the most iconic and Instagram-able part of the entire attraction: An army of Stormtroopers greeting you, each one stood to attention as though they are about to go into battle. The backdrop, an enormous Star Destroyer window screen displaying a vast space view.
You'll find that almost everyone will stand directly in front of the Stormtroopers, taking their photo head-on. But due of the position of the guard rail, the figures will look far away and very much in the background. Instead, for the money shot, walk towards the Stormtroopers on your left next to the sample ride vehicle, much closer to where guests can stand. Capture these at the right angle, and you'll have both sets of Stormtroopers (foreground and background) in the same shot.
What characters will you see?
If you're a fan of the recent trilogy, there's a lot to love about Rise of the Resistance, especially on the character front. Whether it's animatronics, holograms, videos or live actors, they're all there in spirit.
What's amazing about is that the same actors you see in the films reprise their roles for the ride. They are not voice doubles. So Adam Driver, John Boyega, Daisy Ridley and Oscar Isaac all make an appearance, well, sort of.
Here's a full list of the characters in Rise of the Resistance:
Rey
Kylo Ren
Finn
Poe Dameron
BB-8
Nien Nunb
Lieutenant Bek
General Hux
Stormtroopers
First Order Officer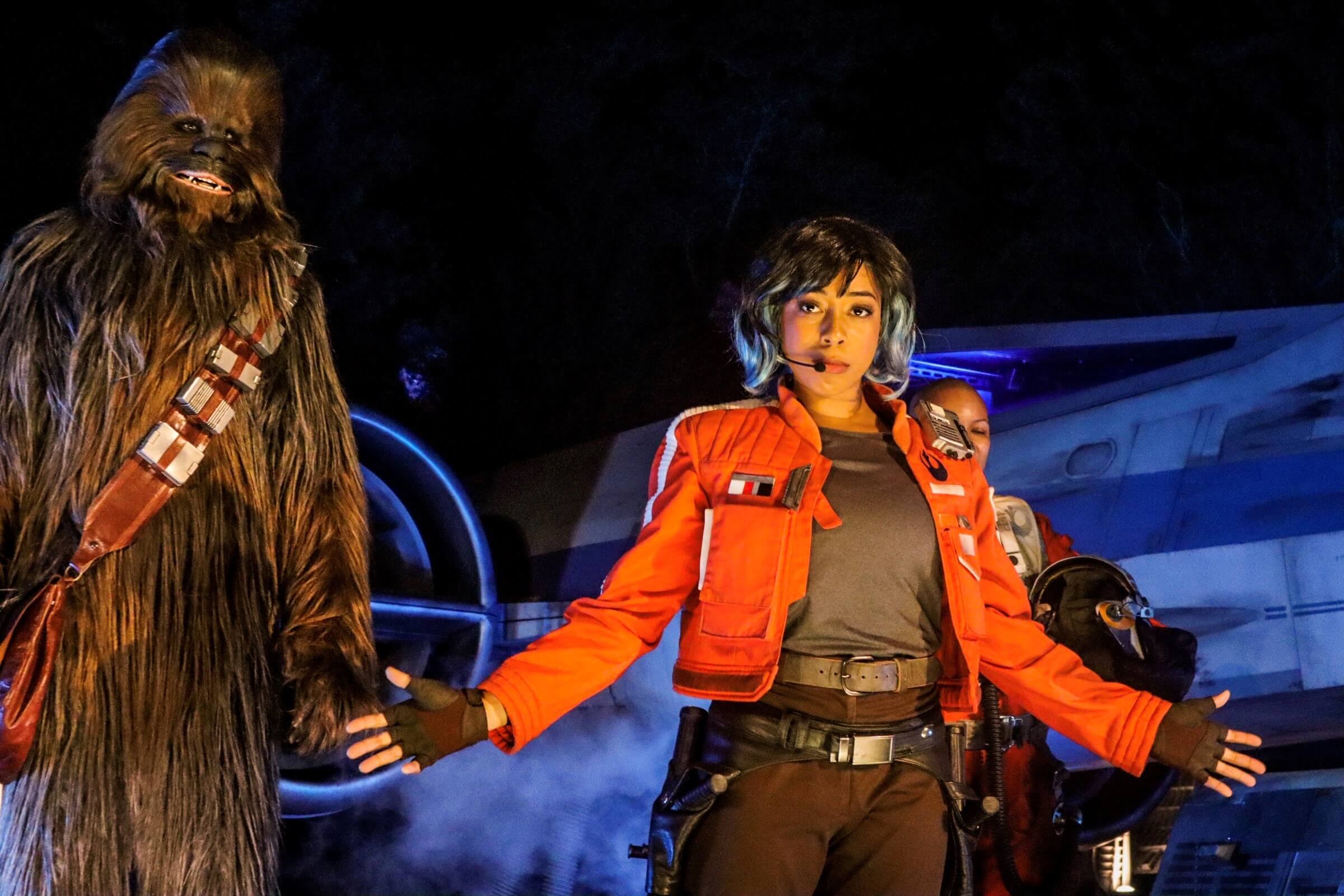 Vi Moradi - Solo Photographer
The pre-show for Rise of the Resistance is responsible for building up the excitement. It's here where BB-8 and Rey appear, before Poe Dameron and Nien Nunb join forces. Disney has also added a new character: Vi Moradi who is a resistance spy hiding in the Black Spire Outpost. She also appears before the actual "ride", welcoming guests and warning them of the dangers that lie ahead.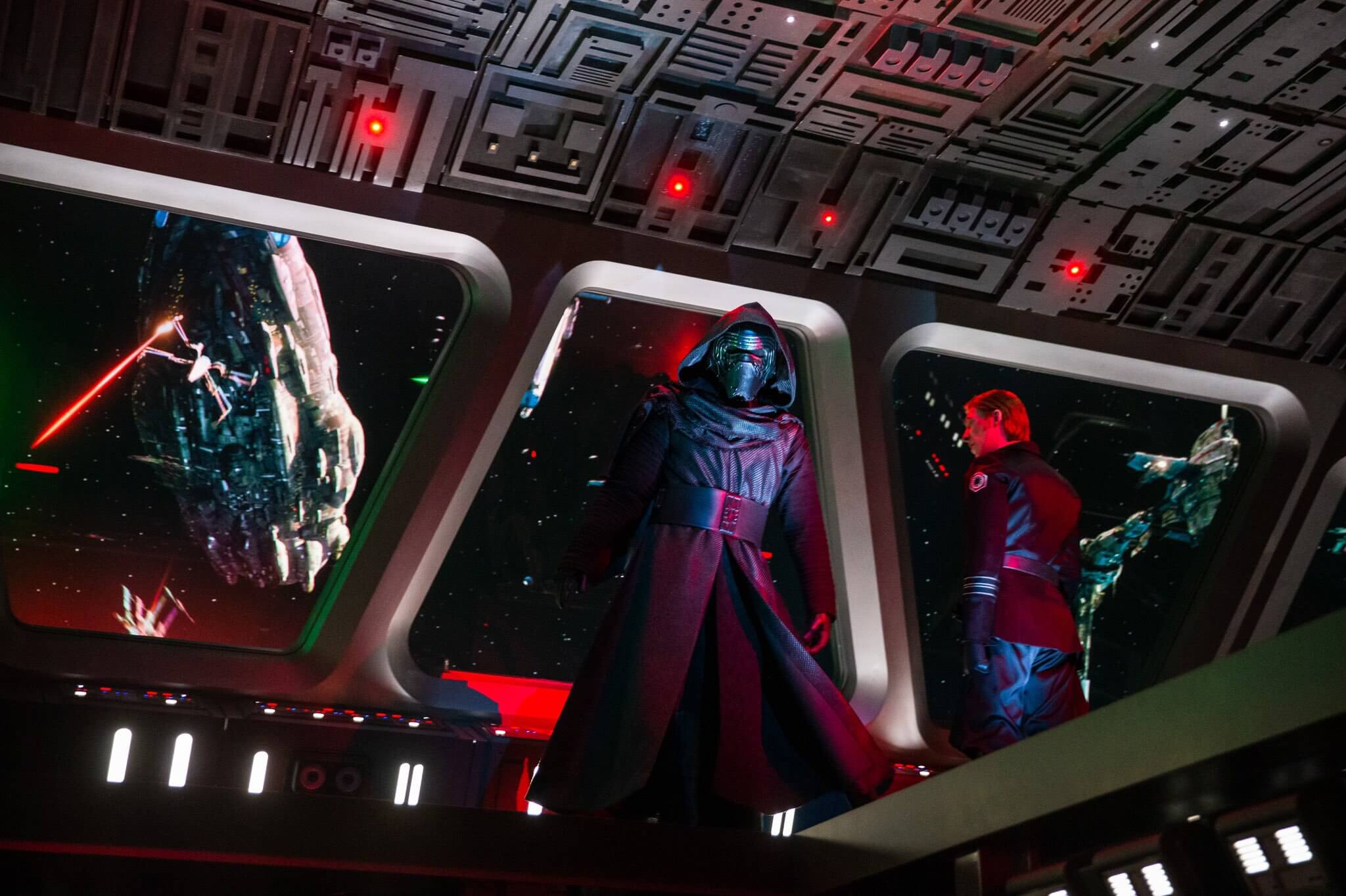 The astonishing Kylo Ren animatronic - Darryn Jenner
The Kylo Ren animatronic is staggeringly impressive. It is part of an A1000 series that uses a "pancake" motor, capable of making much more realistic movements. It's a revolutionary step forward in Audio-Animatronic design.
FastPass and FastPass+ options will be available for Rise of the Resistance. However, they don't when it first opens. This also applies to the Millennium Falcon ride in Galaxy's Edge, which still doesn't have a FastPass option.
Disney is currently using Virtual Queue and boarding groups for Rise of the Resistance, which means that you can save a spot in the line, go do something else and then return when it's your turn.
Rise of the Resistance is fun for the whole family. Having a minimum height requirement of 40-inches means that, unfortunately, smaller members of your family won't be able to ride. This is normal, and in fact, it's the same minimum height requirement in place for Splash Mountain, Big Thunder Mountain, Soarin' and Test Track. In comparison, the minimum height for Smugglers Run is 38-inches.
Because of its trackless motion, Rise of the Resistance is a moderately intense ride. I wouldn't recommend it if you suffer from severe health problems. The following quote reads on the signage as you enter the ride: "Join us on an exhilarating mission to stop The First Order! This mission includes rapid motion, sudden stops, sharp turns, and a swift drop as you evade capture from The First Order".
Rise of the Resistance uses the same trackless technology used in the Ratatouille ride at Disneyland Paris. However, while there's plenty of ducking, diving, scurrying and dodging, there are no "drops" on that ride.
But does Rise of the Resistance really have a drop? Well, yes, but it's only about 10-20 feet and it's over so quickly you don't even realise it's happening (until it's already happened). If you don't like drops, you shouldn't be concerned.
Despite the height requirement of 40-inches, Star Wars: Rise of the Resistance is 100% kid-friendly. The animatronic figures appear real, each blast and sound effect on point, and because of its size, Rise of the Resistance will leave every child open-mouthed and full of excitement. Take it from me, if it was around when I was a kid, I'd be chomping at the bit to experience it.
When a new attraction bursts onto the scene and gains popularity at a rate which Rise of the Resistance has, it's hard to say anything negative. It's main rival, AVATAR Flight of Passage, is very different to Rise of the Resistance in that all the action takes place on a screen. In some ways, you get more thrills from Flight of Passage. But if you enjoy a mix of digital screens and physical effects, Rise of the Resistance is far superior to any other ride.
If I'm honest, there are few things wrong with the ride. Yes, there are things we'd change, but without a doubt, it's the closest thing to mesmerising we've ever seen. At least from a theme park experience.