Droid Depot
Droids are everywhere in the Star Wars universe - and they come in all shapes, sizes and degrees of friendliness. Star Wars: Galaxy's Edge provides Star Wars fans the unique ability to take home their own astromech droid partner, to help you fly across the stars.
It costs $99.99 plus tax to build and take home a droid at Droid Depot. The experience (excluding any time waiting in line) lasts about 20 minutes.
There are two different types of astromech droids you can build, R-Series and BB-Series. Each comes with a different blueprint and a variety of customisation options. Below we take a look at each unit, and the options available during your build.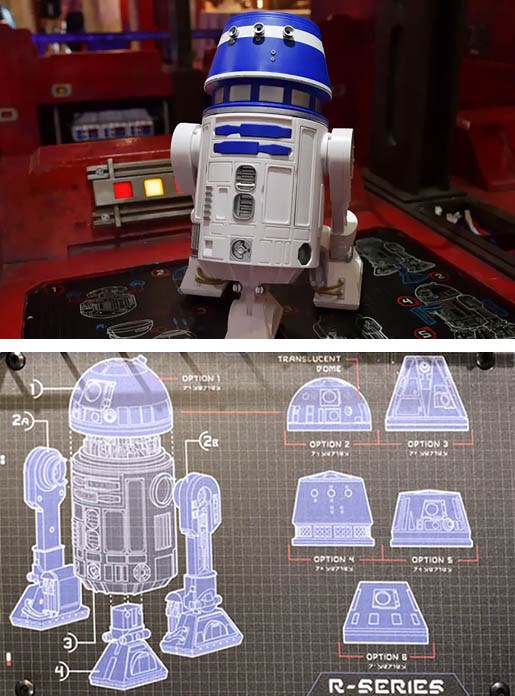 Building an R-Series Unit
These classic astromech droids, made famous by R2-D2, were built to assist with the controls and repairs of starfighters. However, R-Series units became useful in a wide range of situations thanks to their adaptable tools. The basic R-series units at Droid Depot require four distinct parts to construct:
Dome
Body
Centre leg
Set of Side-Legs
There are six options for the dome (head) of the unit, varying in size, shape and colour. You can mix and match the colour of the parts, choosing from red, blue, purple, orange, white and black. A transparent dome is also available. More colours, including pink, green and yellow, are available through decals and accessory panels - which are purchasable extras.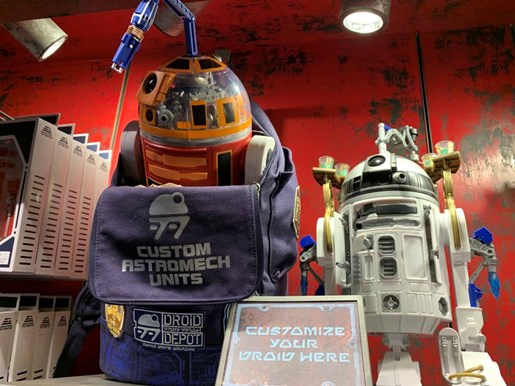 Unlike the BB-Series, R-Series droids come with a number of optional tool attachments. So you can put your droid to work in combat, or as a suave host! These are available for purchase at the following prices:
Coloured decals: $7.99
Coloured accessory panels: $12.99
Blaster and jet attachments (with light & sound effects): $17.99
Tool attachments: $12.99
Serving tray (includes tiny plastic cups): $17.99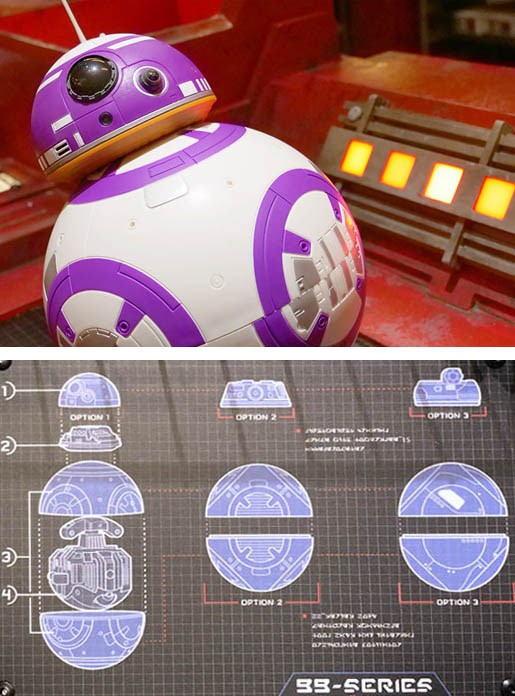 Building a BB-Series Unit
BB-Series astromech droids were built for increased mobility outside of the starfighter, thanks to their spherical body and swivel dome. Like the R-Series units, they require four parts to build:
Dome
Dome Connection Plate
Body Sphere
Motivator
There are three dome options, which vary in size and shape. There are also three different designs for the body sphere. There are currently no optional attachments for the BB-series, but what it lacks in tools, it makes up for in personality! The available colours for BB-Series droids are red, blue, purple, orange, white and black. These of course can be mixed and matched however you want.
Droid Depot's interior is modelled around a real Star Wars workshop. You'll find dirtied red walls, inactive droids and scrap parts littering the place. In keeping with the rustic spirit, the building process is designed to feel as authentic as possible. The first thing you'll have to do is pick the required parts for your droid from a moving conveyor belt. The parts come around randomly, so you might find yourself waiting a while before you can grab exactly what you want.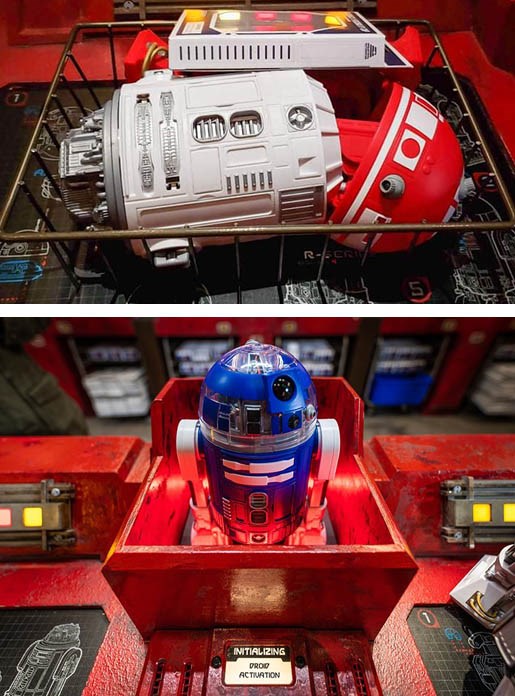 The most exciting part of the experience is putting your droid together. You do this at a dedicated building station, under the supervision of a cast member. On top of the parts you've already collected, you'll need to add a number of 'accent' pieces to the droid, which you'll find in a tray at your work station. Unfortunately, you're stuck with the colours that happen to be in the tray - unless you're brave enough to leave your station to try and locate you want. It's easy enough to put the pieces together with the tools provided, which include an electric screwdriver. If you have any problems then you can ask for help.
Activating your droid is the final step in the process. The droid is primed, prepared, formatted, assigned and initialised, until finally… Boop bleep! Your droid is alive! For both series, you can buy additional personality chips ($12.99), which change the sounds your droid makes, and the way it reacts to different situations. These sounds can be previewed before you buy.
The droid can be controlled by a bluetooth controller, which is packed into the cardboard carry-case. As you continue to explore Star Wars: Galaxy's edge, your droid will react to the things going on around it!
Droid Depot Frequently Asked Questions
How big are the Droids?
Both R-Series and BB-Series unita are about 18 inches tall.
What else is included with my droid?
Your droid will be packed into a cardboard carry-case for transportion around the park and to your hotel. Included in the box is your droid, its Bluetooth controller and an instruction manual.
Will I get a discount if I'm a passholder?
No, there is are no discounts for any of the experiences in Star Wars: Galaxy's Edge.
Can I get a refund?
No, there are no refunds on droids made during the Droid Depot building experience.
Can I buy a droid without paying for the experience?
Yes, there are a variety of 'ready-made' droids for purchase in the Droid Depot shop, including:
3D Metal model droids: $21.99
Interactive C3PO droid: $59.99
Upcycled droid statues: $130
DJ R3X Interactive Droid: $149.99
R2-D2 Interactive Droid: $99.99
BB-8 Interactive Droid: $99.99
MSE Droid Remote Control – $54.99
Droid Depot can be reserved up to 180 days before your trip (a deposit is required equal to the full price of the experience). There will be very limited walk-in availability, so booking is highly recommended. Cancellations can be made up to the day before without penalty; however, any no-shows will lose their deposit. Reservations can be made through My Disney Experience app or on www.mydisneyexperience.co.uk. A ticket to Walt Disney World Resort is required.
Looking for Star Wars: Galaxy's Edge Tickets?
Our Disney tickets include admission to Star Wars: Galaxy's edge in Disney's Hollywood Studios, plus all the other Disney Parks!
Book Disney tickets now!