The Ultimate Guide to My Disney Experience
The Ultimate Guide to My Disney Experience
My Disney Experience gives you the power to plan and personalise your visit to Walt Disney World Florida in advance, so you won't miss ANY of the best bits!
With My Disney Experience you can pre-book the most exciting rides and attractions, make reservations at the best restaurants and much more, making sure you get to experience everything you've been looking forward to for so long!
What is My Disney Experience?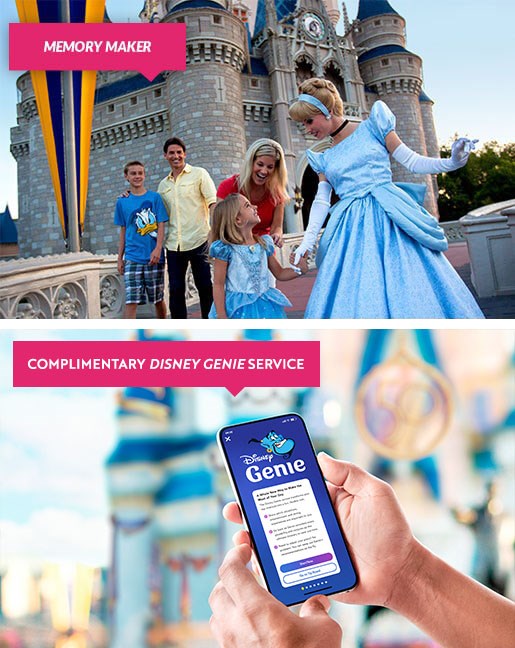 My Disney Experience is the collective name for all the exciting pre-planning tools you can use to personalise your visit to Walt Disney World Florida - before you even get there!
These include:
Disney FastPass+ - Pre-book times for your favourite rides and attractions up to 30 days in advance
www.mydisneyexperience.com - The online place that links up everyone in your party, meaning you can make your plans together
My Memory Maker - An online photo package that magically saves all your photos for you to download when you get home
Magic Bands - A clever wristband that works as your ticket, room key, credit card and more!
You'll get the most benefit from My Disney Experience if you book your Disney tickets in advance, so don't forget to book in plenty of time to really make the most of it!
Book Disney World tickets now!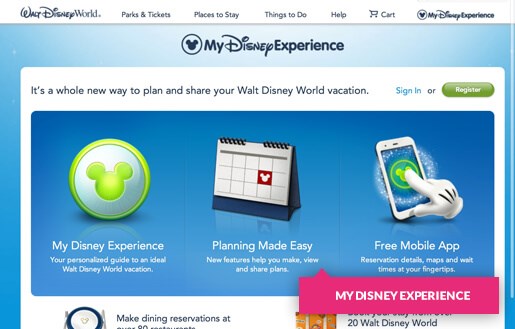 How do I know if my tickets include My Disney Experience?
If you want all the great benefits that come with My Disney Experience you MUST book your Disney tickets in advance.
All Walt Disney World Florida tickets from FloridaTix include My Disney Experience. Look for the symbol when your tickets arrive!
Once you've booked your tickets…
Now you've got your tickets, the next step is to log into My Disney Experience; the online space where you create your personal profile and start planning your dream Disney holiday!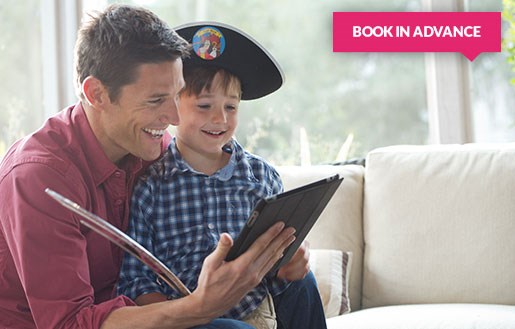 Why should I use My Disney Experience?
My Disney Experience lets you make the very most of your time in the parks – and enjoy even more Disney magic with the people you love the most.
It's perfect for Disney World first-timers: If you're not sure where to start, there's tailored advice on which rides you and your family would love most, when to visit which attractions, and lots more!
Being able to plan your whole trip in advance means less queuing, less hassle and less chance of missing anything that's on your Disney World wish list!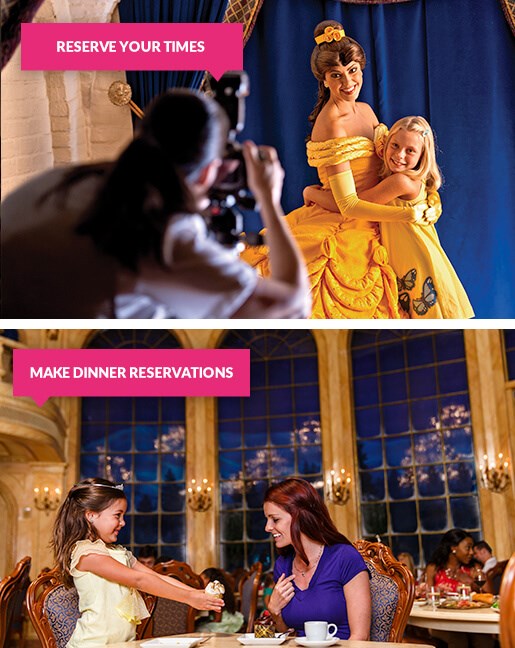 The benefits of My Disney Experience include:
Use online and mobile tools that help you plan your time at Walt Disney World
Download the FREE My Disney Experience App& get real-time info about attraction waiting times and lots more
Share your plans by connecting your profile to your family and friends, so you can review and plan your trip together
View the plans for each day of your holiday – this includes your dining reservations, Wish List items and FastPass+ times
Learn about all the rides and attractions that are available, and find out which are the top attractions at each park
Reserve your times to visit certain entertainment experiences, character meet & greets, and viewing areas to see parades and fireworks
Pre-book times for selected FastPass+ attractions
Make dining reservations at your favourite Walt Disney World restaurants
Use Disney's super-fast WiFi - available throughout the resort - to make updates and changes to your itinerary on the go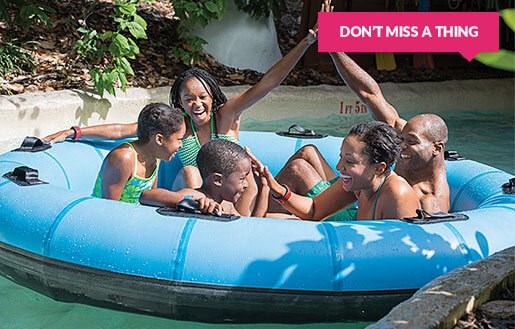 What is FastPass+?
If you're heading to Walt Disney World, you'll probably know about FastPass - but FastPass+ takes the fun one step further!
With FastPass+ you can pre-book rides, shows, attractions, character meet-&-greets and lots more even before you leave for Orlando, so you can make sure you've "locked in" all the bits you definitely don't want to miss.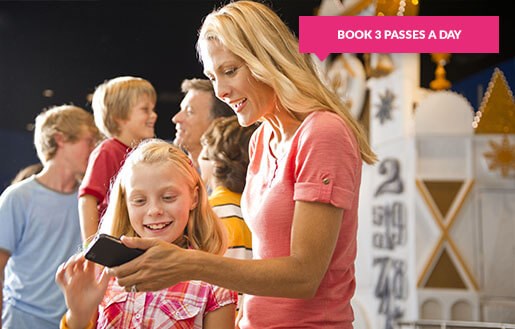 How does Disney FastPass+ work?
Each guest can pre-book up to 3 FastPasses, to be used in one park for each day.
Once you've used your initial set of FastPass+ selections, go to a kiosk in the park and book another one (you can only book one at a time). Repeat as many times as you want until the park closes!
If you've booked your Disney World tickets in advance, you can pick your FastPass+ selections up to 30 days before your visit. If you're staying in a Disney Resort hotel, you can plan up to 60 days in advance!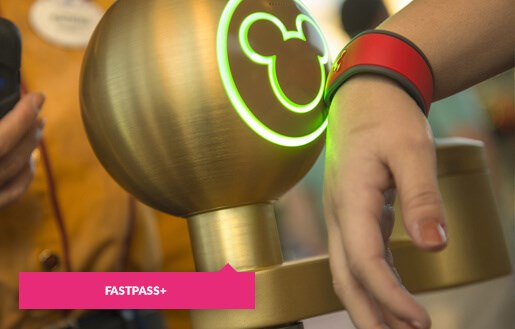 How to book your FastPass+ selections:
You can make your bookings through My Disney Experience, which will show you the location of your selections in each park. This lets you plan which rides or attractions will be easiest to visit on the same day.
When you select a ride or attraction, you'll automatically be shown the best time option first, but you're welcome to choose another time if you prefer.
If one of the rides you've selected is closed during your holiday, don't worry – you'll be given a choice of other rides to enjoy in advance.
Even if you don't manage to book your selections in advance, you can still pre-book 3 FastPass+ attractions on the day using the My Disney Experience App or the FastPass+ kiosks located around all of the Disney theme parks.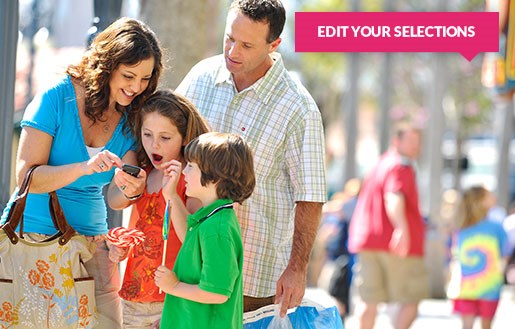 How to change your FastPass+ selections:
Changed your mind? You're free to go back and modify your FastPass selections - you can change your time right up until it happens!
Here's how to do it:
Edit your selections on the My Disney Experience planning page
Make changes on the go with the My Disney Experience App
Ask your Disney Resort hotel Lobby Concierge for help
Go to any of the FastPass+ kiosks located throughout all 4 theme parks
Valid Theme Park admission and online registration required. Disney FastPass+ experiences, the number of selections you can make and arrival windows are limited.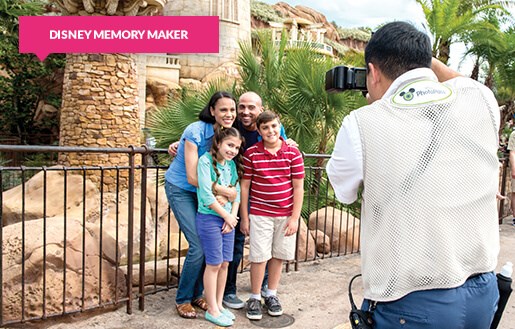 What is Disney Memory Maker?
What if you could get amazing professional photographs of your whole family having fun together at Disney World, without any of you having to step out of the picture to take them? That's exactly what the Disney Memory Maker does!
Want to know more about this fabulous photo package?
Read the Guide to My Memory Maker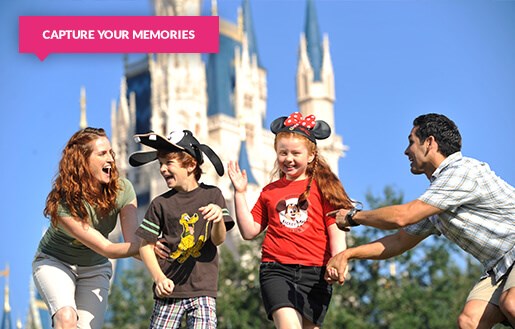 How does Memory Maker work?
There are Disney PhotoPass photographers at the best photo spots all over Disney World, ready to take professional shots of your whole family having an amazing time together.
All the photos you have taken are magically stored in your online account, ready to download when you get home.
And the best bit? With Memory Maker you don't need to pay for your photos – just enjoy your Disney adventure knowing that all your amazing memories are being captured for you!
Any Questions?
We're here to help with any questions you might have about Walt Disney World and My Disney Experience!
Contact us