Kennedy Space Center Tickets
Find out what it's REALLY like to go into Outer Space at NASA's headquarters in Orlando!
Go behind the scenes at NASA!
Select Tickets
Meet a real astronaut
See the Space Shuttle Atlantis
Explore NASA's Space Center in Florida!
Did you dream of being an astronaut when you were little? Ever wondered what it would be like to fly into space? Spend a day at the Kennedy Space Center Visitor Complex and you'll get to find out!
This place is NASA's primary launch center of human spaceflight. For REAL. You'll see actual rockets and space shuttles, learn about NASA's projects and test-drive the simulators that real astronauts use for training!
All Kennedy Space Centre Visitor Complex tickets include: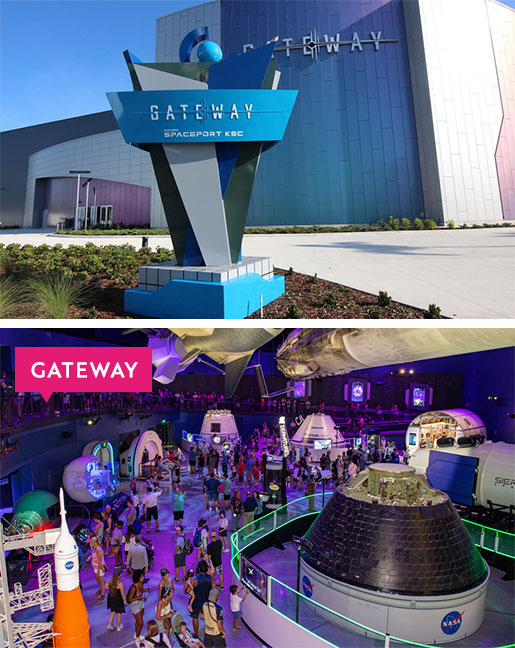 NEW!

Gateway: The Deep Space Launch Complex

Duration: Allow 45 minutes without spaceport
Launch yourself into the future & discover the awe-inspiring innovations of space exploration!
Experience some of the current technology being used in today's space program
Enter the Spaceport of the future, Spaceport KSC, and take off on one of their unique journeys into space!
This experience is fully accessible that can also be watched from the Observation Bay should you not want to travel first hand.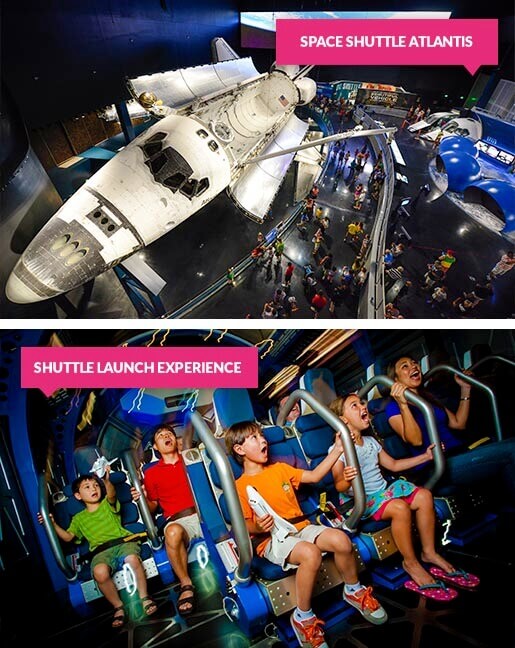 Space Shuttle Atlantis

Duration: 45 minutes for show & visiting time
See the ACTUAL Space Shuttle that has orbited the Earth a total of 4,848 times!
Discover the captivating story of NASA's 30-year Space Shuttle Program
Shuttle Launch Experience

Duration: Around 30 minutes

Restrictions: You must be over 1.12m/3.7ft tall
Experience the feeling of launching into space on a shuttle simulator
NASA veterans call it the next best thing to flying aboard the space shuttle!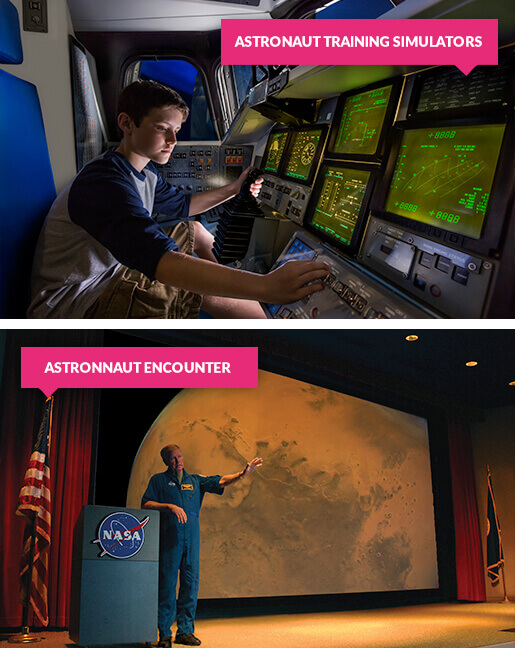 Astronaut Training Simulators

Duration: Around 15 minutes
Learn to pilot a space shuttle in this ultra-realistic simulator!
Dock with the International Space Station and land at the Kennedy Space Center Landing Facility
Astronaut Encounter

Duration: Around 40 minutes
Shake hands & get a photo with a real-life astronaut!
Find out all about life in outer space in a Q&A session with NASA commanders, pilots, mission and payload specialists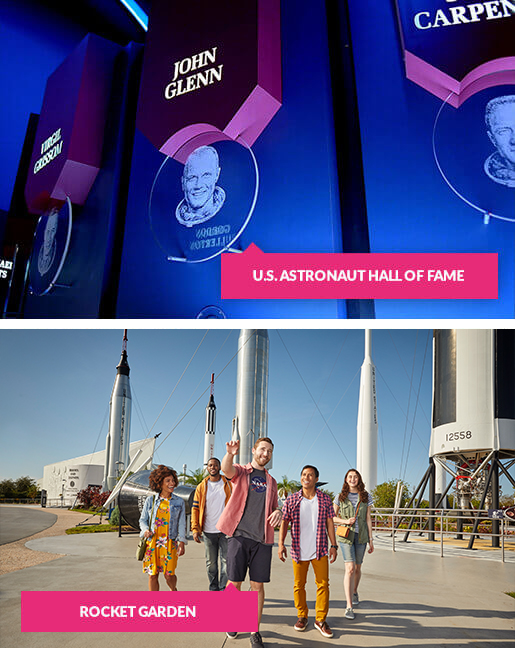 U.S. Astronaut Hall Of Fame

Duration: Around 15 minutes
Discover the life stories of America's space heroes!
Honour some of the world's most legendary astronauts through intriguing historic displays
The Rocket Garden

Duration: Around 20 minutes
Walk among real rockets on a guided tour through the history of rocket science!
Learn about Project Mercury - the USA's first ever human spaceflight program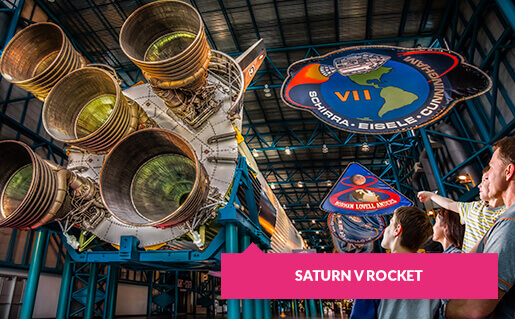 Saturn V Rocket

Duration: Around 30-40 minutes
See the biggest rocket that's ever been flown into space!
This is one of the only 3 Saturn V rockets left in the USA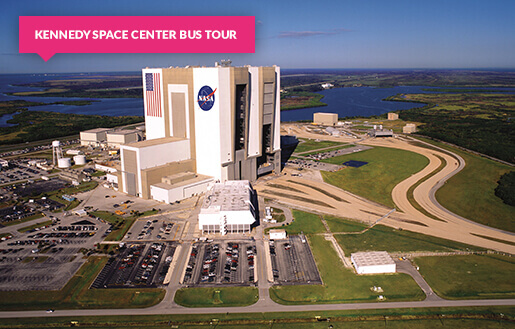 Kennedy Space Center Bus Tour

Duration: Around 45 minutes
A guided tour through restricted areas of the facility from the comfort of an air-conditioned coach
See the actual spots where America launched to the moon and where astronauts will be launched into deep space
Want to see a real rocket launch?
You could watch a real NASA rocket launch from the main Visitor Complex for free!
From the viewing area next to Space Shuttle Atlantis and see the launch about 3 seconds after lift-off above the tree line. It's an experience you won't forget in a hurry!
When is the next launch?
Rocket launches don't take place every day. Many of them are announced just within 2 weeks in advance and can always be postponed on short notice, so make sure you keep checking the launch event schedule.
Add-on Experiences & Tours
Important: General admission is not included with these experiences. You'll also need a Visitor Complex Admission Ticket to enter Kennedy Space Center
Fancy adding something extra to your NASA experience? These are just some of the activities you can book as an add-on to your day: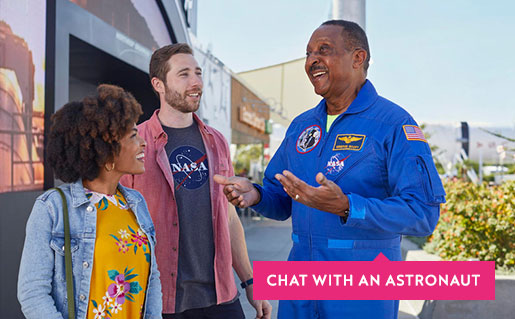 Chat with an Astronaut

Duration: 45 minutes
Find out what it's like to launch, live and work in space from someone who's really been there!
Sit down with the astronaut in a small group setting and ask them any questions you like over a continental breakfast in the morning or chef's choice of culniary samplings in the afternoon.
Receive a commemorative gift and signed portrait of the astronaut.
ATX- Astronaut Training Experience

Duration: 5 hours
Led by real Space-Flight Experts, this experience takes you aboard 2 spacecraft launch mission simulations in a full-scale Orion-style capsule and authentic Mission Control Centre
Learn how to walk in outer space & find out what it's like to take a stroll on the surface of Mars!
Opening Times
Kennedy Space Center is open every day of the year except Christmas Day
The Visitor Complex is open from 9am until 5pm (or sometimes later depending on the season)
Seasonal Info
The LC39 Observation Gantry & Orbit are currently closed until further notice
Getting There
How far is Kennedy Space Center from Orlando?
Kennedy Space Center is located in the city of Cape Canaveral, Florida, just off the SR 405
It's about 1-2 hours' drive from Orlando depending on traffic – perfect for a day trip!
Parking:
Parking is not included with your ticket. The prices for parking per day are as follows:
Cars: $10
Motorcycles: $5
Motor homes, RVs or other oversized vehicles: $15
Disabled parking spaces are available at the same prices, but please note you must possess a valid access parking permit to park here.
The car park will open 30 minutes before the Visitor Complex opens.
Pick-up Points
Pick-up points & times:
Charlies Steakhouse Kissimmee/Celebration: 7.00am
Walt Disney World Swan: 7.10am
Golden Corral Buffet & Grill Lake Buena Vista 7:20am
Universal Royal Pacific Resort PACIFICA Ballroom 7:35am
Avanti Palms International Drive 7:50am
ICON Park International Drive: 8.00am
Children
Children age 3 and under go free!
Children up to 15 years old must be accompanied by an adult
Restrictions
Height
Height restrictions apply on some of the simulators
Weight
Weight restrictions apply on some of the simulators
Smoking
Designated areas only
Selfie Sticks
Permitted
Photography
Permitted
Disabled Access
Wheelchair Access
Access for visitors with disabilities is available throughout the Kennedy Space Center Visitor Complex.
Wheelchairs and electric scooters are available to rent on a first-come first-served basis at around $10/$25 per day.
Wheelchair accessible transportation is avalible. Please call 48 hours in advance to enure correct transportation is provided.
Vision Impairments
Visitors with impaired vision can take a short orientation of the Visitor Complex on the day of their visit.
Free audio guides in 8 languages are available to guests with impaired vision.
Disabled Parking
Disabled parking spaces are available near the entrance of the Visitor Complex.
Facilities
Facilities at Kennedy Space Center include:
ATM machines
Baby care centres
Locker rental
Stroller rental
Wheelchair rental
WiFi
Eating & Drinking
Kennedy Space Center has a variety of dining options where you can enjoy sandwiches, hot meals, ice cream and more.
Food is not allowed to be brought into the complex
Lunch is included with select tickets – please see the individual ticket options for more info
Terms & Conditions
Tours are subject to change due to operational requirements of the Kennedy Space Center
Our tickets do not include Rocket Launch viewings
Occasionally the Visitor Complex may be closed for Rocket Launches - please check directly with Kennedy Space Centre before making the journey to visit