Orlando Magic Basketball Tickets
Don't miss the chance to see Orlando's own NBA basketball team at their home stadium!
Must-do Orlando experience!
Choose from 7 different seating areas
See Orlando Magic in action at the Amway Center
Experience thrilling action on the basketball court as you watch Orlando Magic face off against some of the biggest teams in the NBA! This fun for all ages event with its electric atmosphere and show-stopping entertainment will have you on the edge of your seat regardless of your love for the sport.
It's more than just a basketball game
Alongside watching world-class basketball – which if you don't already know is one of the most enthralling sports to watch live – there's a whole host of entertainment and activities that take this experience to a new level.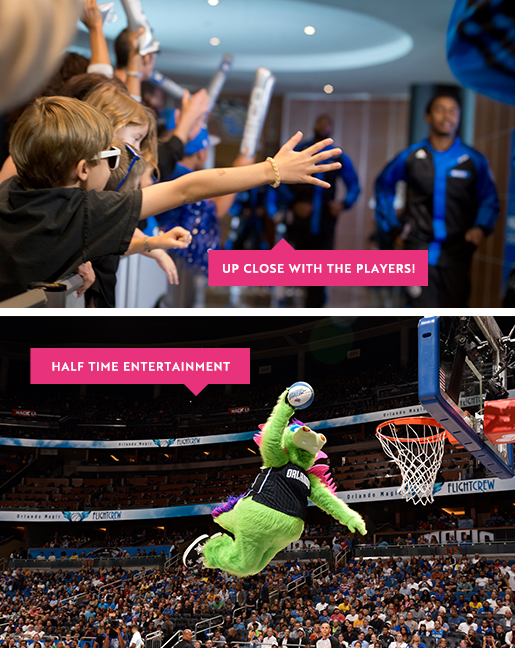 With all our tickets, guests can expect a fun-packed night of show-stopping entertainment, interactive area (for kids) with balloon artists, face painting and games, and 9 bars and restaurants with views of the court. Moreover, your chance to high-five some of the biggest sports stars as they make their way to the court. The Orlando Magic experience really is for everyone!
The action takes place at the Amway Centre in the heart of downtown Orlando. Not only is this state-of-the-art stadium in a great location, but it's also home to the tallest scoreboard in any NBA venue - measuring 42 feet high and 41 feet wide. But that's not all, the 18,600-capacity venue also features more than 1,000 HD digital displays and 6 unique fan levels to relax and have fun.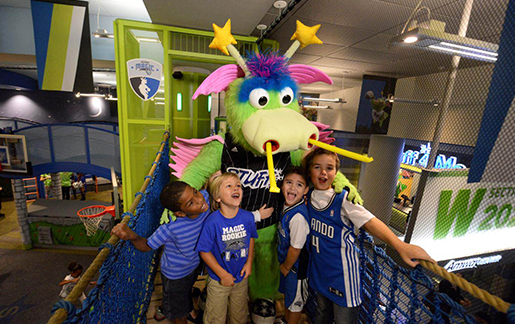 The Amway Centre also has:
Show-stopping on court entertainment
STUFFs Castle - Indoor play area for kids
FanFest - music, games, giveaways
Half-time dancers/mascots
9 bars and restaurants with a view of the court
A tunnel to high-five the players as they enter the court
180 Skytop Lounge - rooftop bar open until 2am
Kids under 3ft go for free!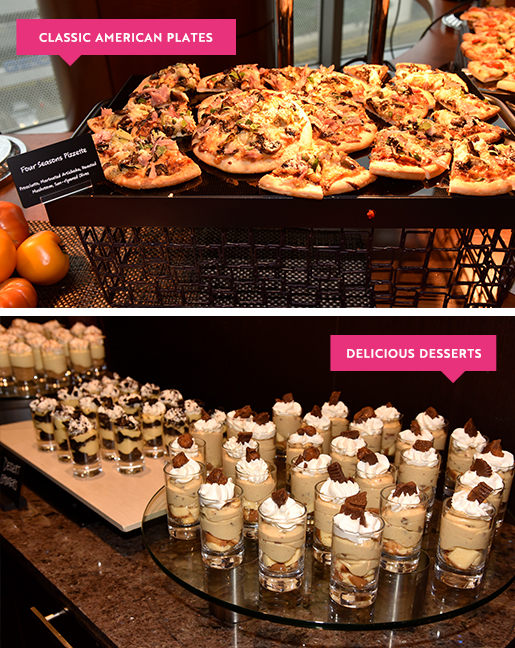 Food & drink
The food & drink inside the Amway Centre is an experience alone. Your Ultimate Seating and Club Seating tickets give you a choice of menus from 9 bars and restaurants. Food includes classic American plates like burgers, hot dogs and nachos, as well as high-end cuisine (including beer & wine) from Jernigans restaurant.
All-inclusive is the way to go, but if your ticket doesn't include food & drink don't worry, because it's all reasonably priced. For example, take the giant plate of nachos at $10, or a cheeseburger, fries and regular soda for just $14. Beer is also well priced at $7.50 to $8.50 for a pint.
Now let's choose your seat, shall we?
Choosing your seats
Click here to view the Amway Seating Plan.
Depending on budget and requirements, seating areas in the Amway Centre range from low-cost to VIP-style luxury.
Without sounding cheesy, we can't stress enough how great value for money our Ultimate Seating and Club Seating tickets are. If you want the complete basketball experience of on-court action, live entertainment, and VIP-style all-inclusive food & drink, we highly recommend these tickets.
To help you choose the perfect seat, ask yourself the following:
How important is all inclusive food & drink?
Want to sit close enough that you can touch the players?
Fancy a pre-game dinner and seat-service?
If you answered 'yes' or 'very important' to these questions, chances are you want our Ultimate Seating ticket. Ultimate Seating gets you as close to the action as possible without disrupting the game. To be exact, the first 7 rows. This ticket includes all-inclusive food & drink, plus concierge service and access to the Fields Ultimate Lounge. Often at events like this, we take 'all-inclusive' lightly, but the Orlando Magic experience is properly all-inclusive. Like all you can eat food & drink. To feel part of the game, choose an Ultimate Seating ticket.
Club Seating When purchasing Club tickets you will receive exclusive access to Club Level, which includes the Craft Beer Bar and the Fan Duel Fantasy Sports Zone. This exclusive access also means shorter lines and less foot traffic when going to concessions and walking to and from your seats.
Does seeing the players take priority over everything else? If yes, a Terrace A ticket gives you the best view of the team benches. It's not VIP so it doesn't include food & drink, but if you're all about the game, this is the seat to be in.
Both Terrace B & C offer unique views of the action but remain affordable. If you want to be close ot the action or behind the hoops, these tickets are great.
Happy to watch from further back? Choose a seat in Promenade A or B and experience the amazing atmosphere without breaking the bank. These seats are well suited to families and small groups.
How do your tickets work?
As soon as you have chosen your seating area and the fixture you want to attend, we'll use the official Orlando Magic portal to pick the best available seat. We know the Amyway Centre seating plan extremely well, so rest assured that with our help you'll have the best view within your chosen area.
Orlando Magic Schedule
The NBA season runs from October to April, with 44 home games at Amway Centre. Orlando Magic's upcoming fixtures are:
Preseason Schedule:
Tuesday, October 17th @ 7:00pm vs New Orleans Pelicans
Friday, October 20th @ 7:00pm vs Flamengo, Rio de Janeiro
*Please note game dates and times are subject to change.
Availability
The NBA season runs from October to April and we have tickets to all 44 home games at the Amway Centre. Some fixtures are more popular than others, so get your tickets early if you want to see the Lakers, Chicago Bulls, Golden State Warriors, New Orleans, Boston Celtics, and New York Knicks.
Times
Games start at either 7pm or 8pm, but for the full experience we recommend getting there at least an hour early. An NBA game is 4 quarters of 12 minutes each, so 48 minutes in total. However, with all the stoppages and half-time entertainment, it soon adds up to 2-2.5 hours. As we've already stated, this is a full experience and not just an NBA game. So clear your diary for the evening and enjoy the entertainment.
Location
The address for the Amway Centre is: Amway Centre, 400 W. Church St. Orlando FL32801
Restrictions
There are certain things that you can't take inside the Amway Centre, these include:
Backpacks and other large bags
Video cameras
Digital cameras
It is prohibited to film or take pictures inside the Amway Centre, but don't worry because you'll have more time to take in the incredible atmosphere and enjoy what's around you.
Children
If you are taking a child who is under 36"/3ft/91cm they do not require a ticket but must sit on an adult's lap. Children over 36"/3ft/91cm require an adult ticket regardless of their age.
Terms & Conditions
All Orlando Magic tickets are 100% non-refundable
IMPORTANT: Orlando Magic Basketball tickets are not included in our Cancellation & price Match Protection or the deposit payment scheme. These tickets must be paid for in full at the time of booking.