Oga's Cantina
The cantina is an iconic location in Star Wars, one which evokes memories of the original trilogy. Although you won't see any bar fights or bounty hunters at Star Wars: Galaxy's Edge, you will find a robotic DJ and a warm, authentic atmosphere. Oga's Cantina is considred by many the 'beating heart' of Galaxy's Edge, and despite its faults, a visit is at the top of many fans' to-do lists.
It costs $10 per person to reserve a space in Oga's Catina. Once you're inside, there's a one drink minimum policy for everybody in the group, and a two-drink maximum.
Also bear in mind there's a 45 minute time limit on your stay inside, but there is some leniency on this, since you might be waiting a while longer than that just to pay!
With all that in mind, let's explore the Oga's Cantina experience.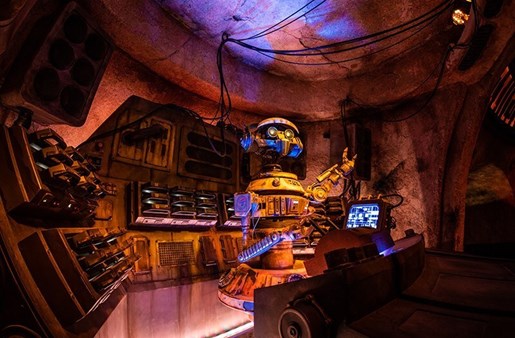 The Atmosphere
As most would hope, Oga's cantina takes heavy inspiration from the Mos Eisley Cantina from Episode IV. The interior is dark, cozy (see: crowded), and fully themed in typical Star Wars: Galaxy's Edge style. So much so that it really feels like you're in a galaxy far far away. That said, when the place is busy - which is all the time - the bar's atmosphere is much like any other. Meaning you might have to raise your voice to be heard. It's something to keep in mind if you're in a large group, or a party with children.
There are a host of intricate details that makes the interior so immersive, from the exposed wires above the bar to the animatronic DJ R-3X. For those using their smartphone as a datapad (using the Play Disney Parks app), you can translate the alien signage and notice boards that are dotted around. Here's an example of the kind of messages that are hiding away. This one is found at the entrance and lists the code of conduct inside the bar - you'll have to visit if you want to decode the rest!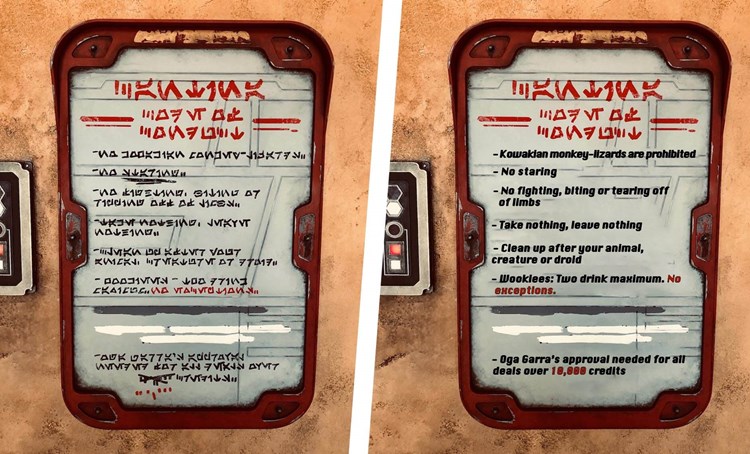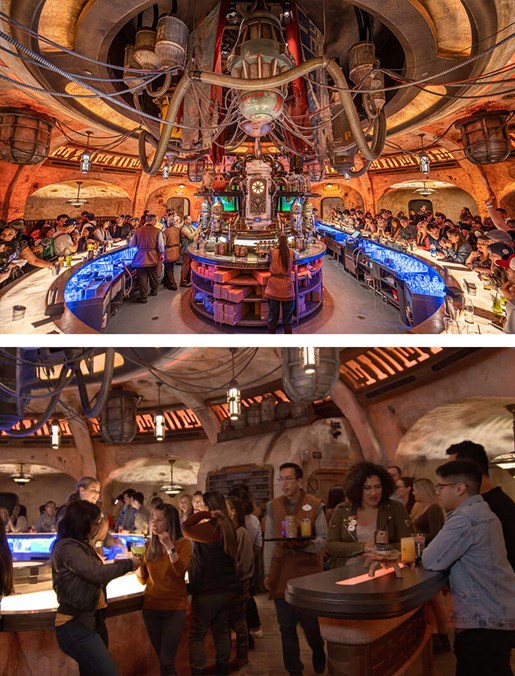 The Seating
If you haven't got the hint by now, Oga's Cantina is always busy. To make more space for guests, the available seating inside has been kept to a minimum. There are only two seating options, which cater to just a small percentage of guests in the bar. These are:
The stools around the bar
Booths that are dotted around the perimeter of the room
The seats around the central, U-shaped bar allow for the best view of the intricate details and theming- but the adjacent seating arrangement makes conversation difficult for groups of more than three. The booths, on the other hand, are ideal for lager groups. They fit about 8 people, but note that any groups smaller than that will be sharing the booth with strangers.
Because you have no say where you end up in Oga's, and because the seating options are so limited, you're more than likely to be standing. If so, you'll be grouped around one of the long high-top tables - and again,you'll be brushing elbows with strangers. If you're looking to take the weight off your feet after a day of walking through the parks, Oga's Cantina unfortunately isn't a reliable solution. But for Star Wars fans the atmosphere, theming and attention to detail make the experience more than worth it - even before you start sampling the menu.
The Drinks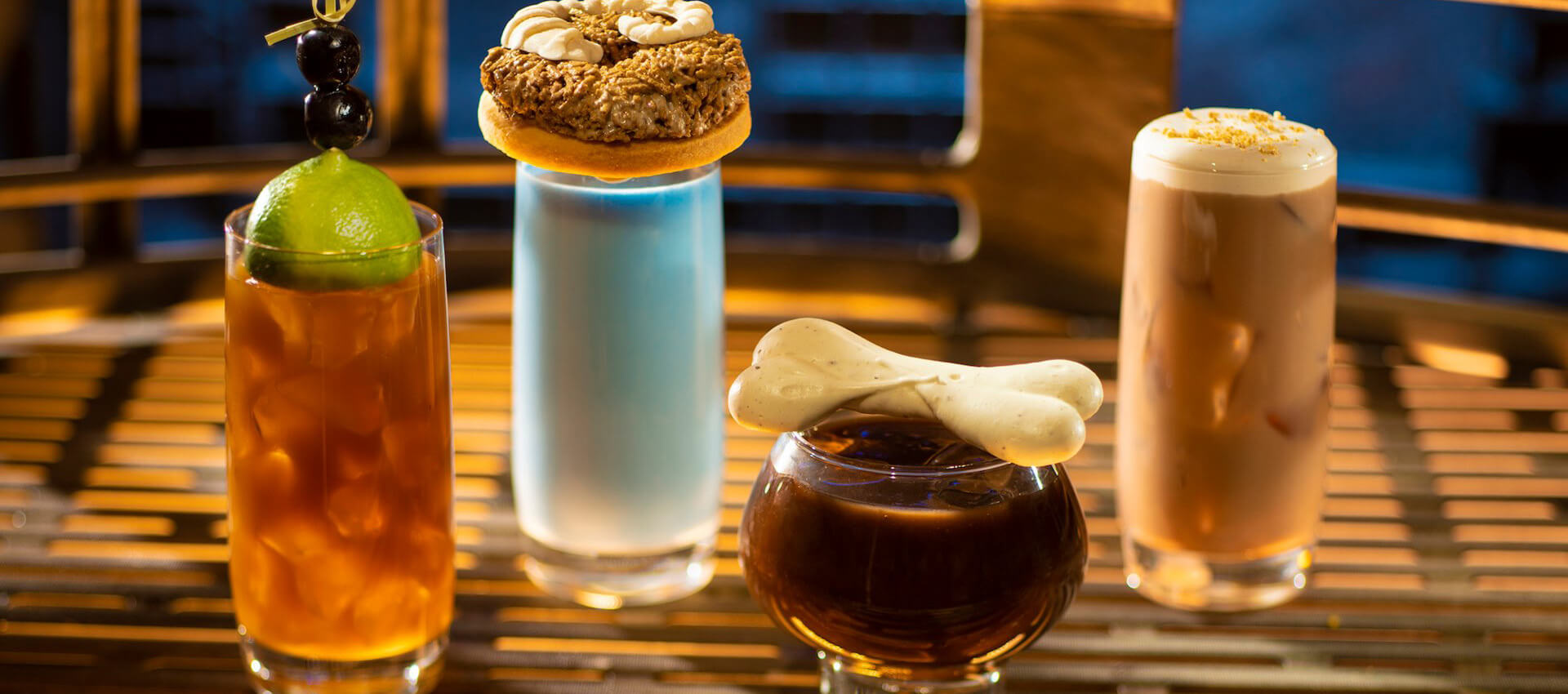 In a lot of ways, the drinks themselves aren't the most important part of the Oga's Cantina experience. There are however a lot of interesting and delicious concoctions available - both with and without alcohol. Just keep in mind that the drinks are all pre-mixed and come from a tap, so there'll be no flashy cocktail mixing, and you won't be able to request any changes to ingredients.
There are two different menus: a regular menu, and a breakfast menu that is only available in the morning. You can see both in their entirety below. Drinks in bold come with a souvenir mug that you can keep.
Alcoholic Drinks
Cider on Tap - Spice Runner Hard Cider - $11.00
Beer on Tap - Gold Squadron Lager, White Wampa Ale, Gamorrean Ale, Bad Motivator IPA; selection may vary - $12.00
Wine on Tap - Toniray, Imperial Guard; selection may vary - $13.00
Carbon Freeze - Powerade Lemon Lime, wild strawberry, blueberry, and green apple popping pears - $7.50
Jedi Mind Trick - grapefruit and rose vodka, falernum, blue curaçao, white grape juice, lime juice, and grapefruit bitters - $14.00
Jet Juice - bourbon, chile liqueur, açaí liqueur, white grape juice, and lemon juice - $14.00
T-16 Skyhopper - vodka, melon liqueur, kiwi, and half & half - $15.00
Fuzzy Tauntaun - peach vodka, peach schnapps, orange juice with tangerine, pure cane sugar, and "buzzz" foam - $15.00
Dagobah Slug Slinger - reposado tequila, blue curaçao, citrus juices, ginger, herbs, and bitters - $15.00
The Outer Rim - silver tequila, açaí liqueur, lime juice, pure cane sugar, black salt, and exotic fruit purée - $16.00
Bespin Fizz - rum, yuzu purée, pomegranate juice, white cranberry juice, and cloud swirl - $17.00
Rancor Beer Flight Souvenir Board with Four Teeth - enjoy a sampling of each beer - $75.00
Yub Nub - pineapple rum, spiced rum, citrus juices, and passion fruit served in a souvenir Endor mug - $42.00
Non-Alcoholic Drinks
Hyperdrive (Punch It!) - Powerade Mountain Berry Blast, white cranberry juice, black cherry purée, and Sprite - $6.00
Jabba Juice - Simply Orange with pineapple, kiwi, cantaloupe, and blueberry popping pearls - $6.50
Blurrgfire - lemonade, pomegranate juice, and habanero- lime - $7.00
Oga's Obsession - lemonade, cotton candy flavor, and blueberry popping pearls with a bursting dried fruit mixture - $7.50
Blue Bantha - Blue Milk served chilled with bantha-inspired vanilla-butter sugar cookie - $13.00
Cliff Dweller - citrus juices, coconut, hibiscus-grenadine, and Seagram's Ginger Ale served in a souvenir Porg mug - $32.00
Alcoholic Drinks
Spiran Caf - Peru Alto Mayo Organic Joffrey's Coffee, orange marmalade, rum, vanilla whipped cream, and citrus zest - $16.00
Bloody Rancor - vodka, chile liqueur, spicy Bloody Mary mix, and rancor bone - $17.00
Non-Alcoholic Drinks
Double Espresso - - $4.00
Juice - Orange or apple - $5.00
Cappuccino - - $5.00
Cafe Latte - - $5.00
Tarine Tea - Gold Peak Unsweetened Tea, peach, huckleberry, and mint - $6.50
Moogan Tea - Gold Peak Unsweetened Tea, chocolate milk, vanilla, and cinnamon - $7.00
Black Spire Brew - Cold Brew Joffrey's Coffee, honey, falernum, passion fruit, and citrus - $7.00
Blue Bantha - Blue Milk served chilled with bantha-inspired vanilla-butter sugar cookie - $13.00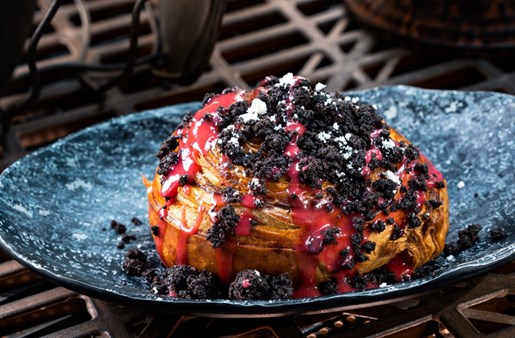 The Food
While it does a lot of things well, Oga's Cantina is not the place to go if you're looking for a hearty meal. The options are very limited, and are unlikely to suffice for more than a snack.
Batuu Bits - A light crisp snack mix from the galaxy - $8.00
Mustafarian Lava Roll - sweet galactic snack - $6.00
Rising Moons Overnight Oats - Oats, Dragon Fruit, Yogurt, and Seasonal Fruit - $7.00
Oga's Cantina Frequently Asked Questions
How long can I stay in Oga's Cantina?
Each group is limited to 45 minutes inside.
Are there any age restrictions on entering?
At least one person in the party must be 14 years of age or older.
Do I need to show ID to enter?
Yes, every member of your group will require ID to enter.
How old do I need to be to consume alcohol?
21 years of age - ID will be requested when buying alcoholic drinks.
Can I take pushchairs/strollers/scooters inside?
No, space is limited inside so you won't be allowed to take in pushchairs.
Oga's Cantina can be reserved up to 180 days before your trip (a $10 credit card deposit is required). There will be very limited walk-in availability, so booking is highly recommended. Cancellations can be made up to the day before without penalty; however, any no-shows will lose their deposit. Reservations can be made through My Disney Experience app or on www.mydisneyexperience.co.uk. A ticket to Walt Disney World Resort is required.
Looking for Star Wars: Galaxy's Edge Tickets?
Our Disney tickets include admission to Star Wars: Galaxy's edge in Disney's Hollywood Studios, plus all the other Disney Parks!
Book Disney tickets